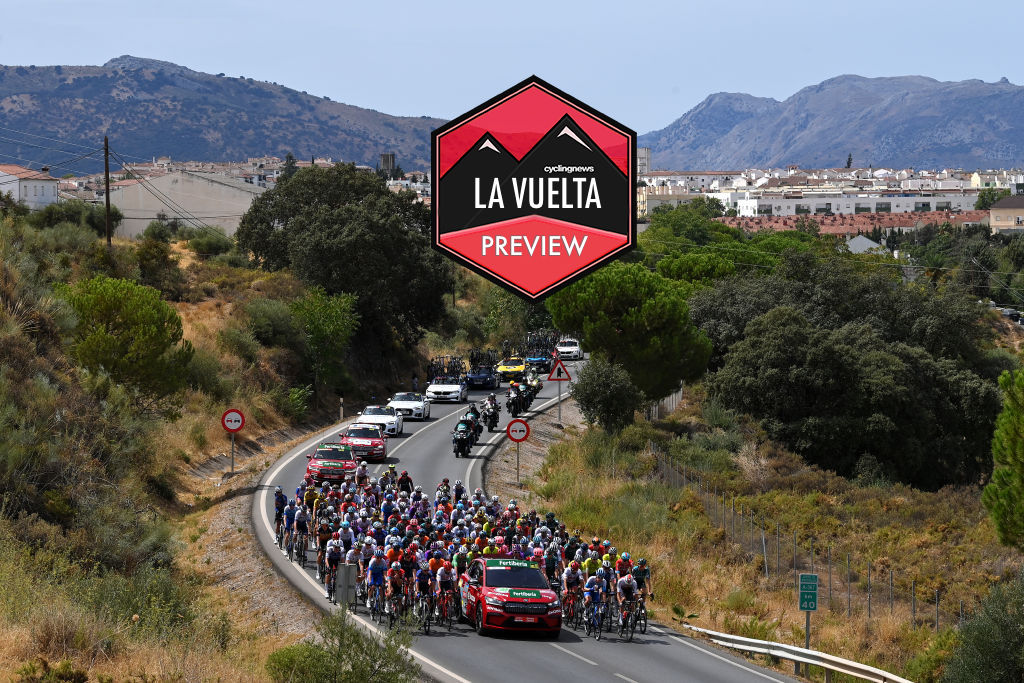 Stage 14: Montoro – Sierra de La Pandera
Date: Saturday, September 3, 2022
Distance: 160.3km
Stage timing: 13:05-17:30 CET
Stage type: Mountain
The Vuelta a Espana heads back to the hills with a vengeance on Saturday as the race tackles the second of its three summit finishes in Andalusia, Spain's most southerly region.
First used in 2002, since then the Sierra de la Pandera climb (more commonly known as 'La Pandera' pure and simple) in the northeasterly Andalusia province of Jaen, has become a familiar feature in the race. In 2017, its previous appearance of six, La Pandera also combined with Sierra Nevada as the opening leg of two back-to-back summit finishes in the Vuelta's second-to-last weekend. 
Yet for all La Pandera has been downgraded to a first-category climb rather than still enjoying its hors category rating of 2017, it remains an exceptionally difficult summit finish.
Although 'only' 8.6 kilometres long, it is also worth noting that in 2022 La Pendera is immediately preceded by a much gentler but steady 10-kilometer second category ascent to the village of Villares. But with only a couple of kilometres of false flat between the two, the two climbs essentially form the same ascent.
Then after the second cat. Puerto de Villares, it's onto La Pandera for real. Rearing up to 1,872 metres above sea level, the road is relentlessly narrow, steep, badly surfaced in places, and with very few false flats.
"Positioning early on will be crucial," 1988 Tour de France winner Pedro Delgado observed in his special previews for Spanish television TVE, Pericopuertos back in 2017.
"You have to be well placed right from the foot of the climb even if the bunch is lined out by this point. Very near the bottom, after a couple of kilometres, it immediately gets tough, with a ramp of 15 percent," Delgado said, adding of the moment the road swings hard right onto the steeper segment: "This is where the fiesta will start. Slam it into the small ring and get ready to die."
After seven kilometres of constantly varying gradients between three percent (not many of these) and a maximum of 15 percent (four kilometres from the summit) on a narrow road going up through a rocky, empty mountain landscape, there is a brief respite very close to the top as the road swoops down. Then the final kick-up at eight percent takes the race to the summit of the climb.
Calculated by Andalucian pro Luis Angel Maté (Euskaltel-Euskadi), aka The Lynx of Marbella, as taking around 40 minutes to complete, La Pandera was brought into la Vuleta when an inhabitant of Valdepeñas de Jaén, the village at its foot, discovered in 2001 that the climb, previously part of a military base, was open to the public. The woman sent a letter to Unipublic, the race organisers, telling them about the climb, and in 2002 it was first tackled, with victory going to Roberto Heras, who placed second overall that year.
La Pandera has also helped cement other riders' positions on the final podium, such as for Andrey Kashechkin when he and Alexandre Vinokourov took first and third place overall in the race for Astana back in 2006. And La Pandera was also the scene of one of the earliest Grand Tour stage wins of a certain Alejandro Valverde in 2003, a victory so far back in his career,  he was still racing for his first pro team, Kelme-Costa Blanca, prior to heading to his current team, then sponsored by Iles Balears-Caisse d'Eparnge, in 2005.
A mere 17 years later, for the 2022  GC favourites, La Pandera will both serve as a foretaste of the much more difficult Sierra Nevada climb, but can also easily become a battleground in its own right.
 In 2003, for example, Heras pulled back a minute on race leader Isidro Nozal, before poleaxing the ONCE racer in the Sierras of Madrid. Nearly two decades further on, and given its proximity to the Sierra Nevada stage, it's tempting for La Pandera to be considered as a mere prelude to the hardest day of the race. 
But Grand Tours are littered with examples of how GC riders have preferred to use a hypothetical warm-up mountain stage as their main springboard to challenge the leader or for the leader to crush the opposition. As such, making too many early predictions about the role La Pandera will play in the 2022 Vuelta seem unwise, but that, in turn, only heightens the interest in how things will play out late this [Saturday] afternoon somewhere in southern Spain.