Citater fra Bostrup & Laugesen, TV2 Sport under kampen mellem AA🇩🇰 og AG🇮🇩:
Frækheden er tilbage!
Han driver ham fra side til side.
God opbakning til Antonsen. (Fra publikum)
Joachim Persson og Svend Aage Sørensen bag AA
Han kan altså også godt klappe til den – Ginting. Vi har ham også på top 5.
Han læser de her flade løft nu.
• 21-14. 22 minutter.
Bedste sæt vi har set fra ham her i lang tid!
Han er meget talende, Antonsen.
Der er et sæt i banken. Presset er på Ginting.
Hvor er han god på nettet. Se det spin.
Ikke så super aggressiv en Ginting, der er kommet ud.
3-3. Meget sen challenge.
4-7
Ude! Antonsen hænger i.
Camilla Martin meddeler, at han har fin længde.
6-7
Vi begynder at have dueller. Det er nu Anders skal stå distancen.
6-11
Væk fra net. Ikke slå hårdt. Slå med vinkler. Siger træneren i pausen.
Sjov type. Svær at læse. Ham Ginting.
8-12
Ginting spiller som sædvanlig med et kæmpe pres på sine skuldre. Sidste indonesiske herresingle tilbage.
8-15
9-17
Og de er langt ude. Det er tre sæt.
Han har fundet ro. Spiller godt. Bruger banen helt vildt fornuftigt.
Han er koblet ud.
• 9-21. 20 minutter.
Ginting mindst lige så suværen som Antonsen var i første sæt.
Nå Antonsen. Så har du ét sæt!
God start. Det skal der til.
Og så slår han altså hårdt.
1-1
Hvor er han hurtig fremad, Ginting. Han spiller på hele paletten.
Der skal mere tempo på mellem duellerne, mener dommeren.
3-2
Der tryller han på nettet.
3-3
Han scorer ikke sine egne point, Anders.
5-4
Øj hvor hænger han flot deroppe. Et stilstudie. Det ser så elegant ud. 171 cm.
7-4
Ku være deligt at få sat lidt tvivl ind i Ginting.
Der har været 3-4 point direkte i nettet.
8-5
9-5
Han er frustreret, Ginting. Han leder efter løsninger og de er der ikke.
10-6
Øjjjjjj, der lavede han sit eget point.
11-6
Sideskift. Over på den anden side.
Jeg synes ikke Antonsen ser træt ud. Nej han er hvor han skal være.
Det er som at se Jan Ø Jørgensen i gamle dage.
12-7
Dejligt netrul.
Det er to gutter, der er ekvilibrister på nettet.
13-8
Der er frækhed.
Det' så svært.
14-9
God længde på sit løft, Anders
15-9
Den går også ud. Der skal ikke meget til.
16-9
YEAH!!!! WAUWWWWW hvor spiller han lige nu godt. De laver så mange fænomenale ting.
TTY barberer Bing Jiao
16-11
Ellers godt spil frem til at denne skulle afgøres.
17-11
Kæmpe frækhed.
17-14
Det er som pilen er ved at svinge over til
Ginting. For mange håbere!
Uha uha uha!
17-15
Anders' fejl
18-15
Nøj et sats. Man skal søge heldet.
19-15
FREM! Ja! To yderst vigtige point i træk.
68 minutter.
Anders play!
19-16
Han har fundet længden, Dennis. Det har været godt.
20-16
Dejligt spin.
• 21-17.
1 time og 13 minutter.
"Game 3. 14 unforced errors, 1 forced errors, 6 winners = 21 Antonsen's Points
A disappointing night for the Indonesian.
Playing against Antonsen, at his peak level, is like playing elaborate Chess but you have to hit something every time you make a move.
Now I understand why hkvittinghus said Anders Antonsen is the best tactical player."
"We all knew Danish (player n coach) always have a good tactical awareness/tactical prep. That's the reason why so many Danish players have a long careers. They're not just relying on their physicality. But with their intelligence.
I'm sure Antonsen has a clear prep, n it works"
Kilde: TWITTER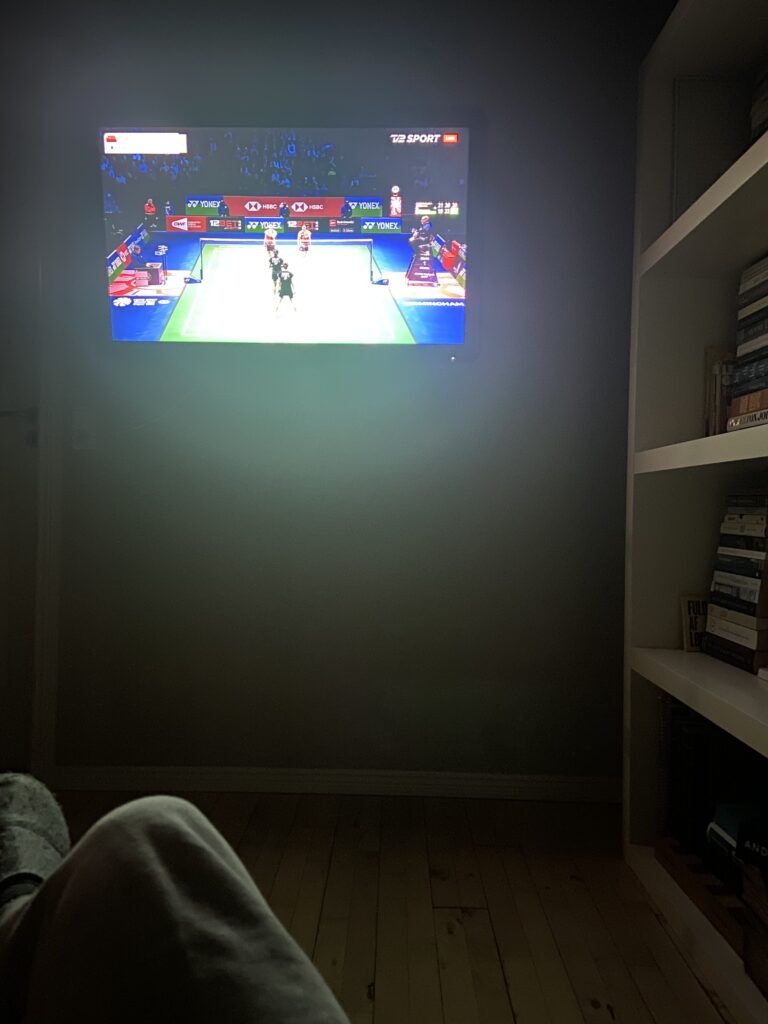 Badmintonbladet 🙏🏻🏆🇩🇰❤️ Per Damkjær Juhl